Versions Compared
Key
This line was added.

This line was removed.

Formatting was changed.
What is it?
This customfield allow Custom Field allows to identify a set of users depending on a one or many selected role.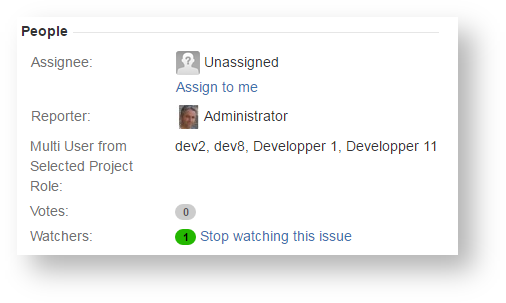 How to configure them ?
When
For adding
a new 
Customfield
, select the Customfield Type 
Multi Use from Selected Role 
:
this new Custom Field ... 
Select and Add the Custom Field Type 

Multi User from Selected Role

 

: 




Then
, you will be able to configure your customfield in order to identify the concerned
Project Roles
and how the identified users are rendered.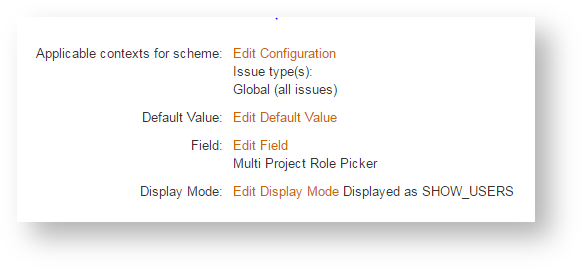 Image Removed
The identification of the Project Roles will be done by selecting any fields able to store a Project Role Name (a simple Text field or the Project Role Picker) :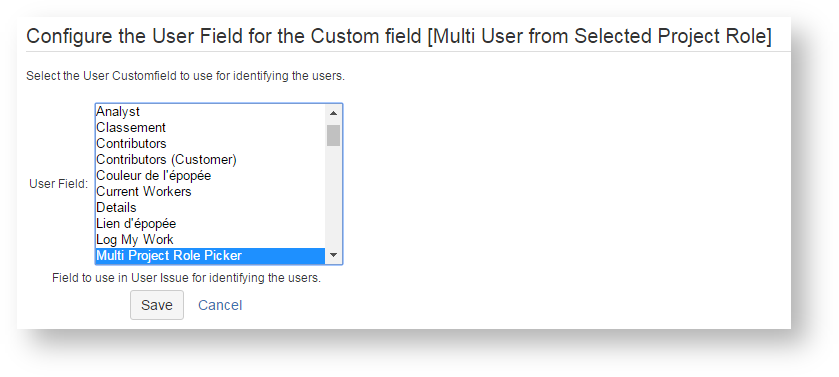 Image Removed
The rendering of the identified Users can be done by applying different settings.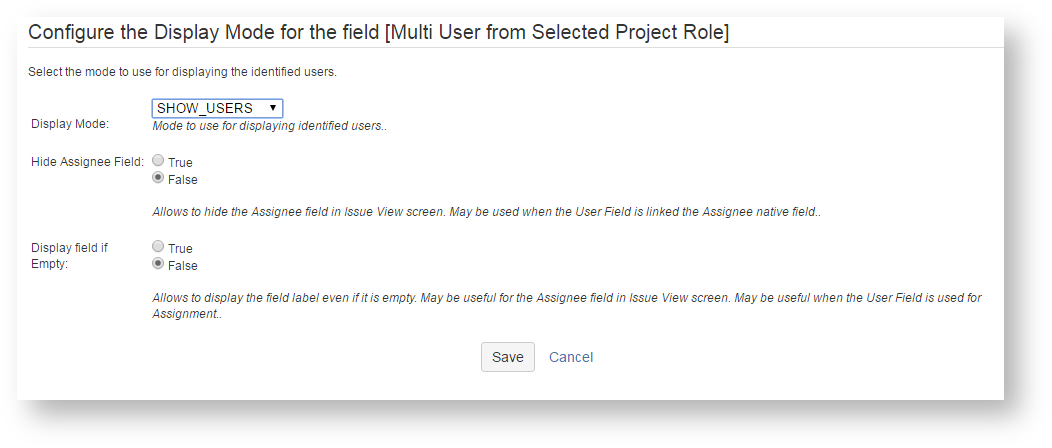 Image Removed
The Display Mode provides 4 modes of rendering
SHOW USERS

: The Users members of the selected Project Roles

SHOW ROLE

: Only the 1st select Project Roles are displayed

SHOW GROUPS

: The Groups of the 1st selected Project Role

SHOW BOTH

: A combination of

SHOW USERS

and

SHOW ROLE
Hide Assignee
Display if empty
go to Configure.
You will have a set of Configuration Items allowing to complete the expected configuration ...

Fields




For identified Fields that will have to be checked to identify concerned Project Role,, themselves used to build the list of Users.





Display Mode




And finally, which rules will be followed to render Users

Image Added




Start to specify which Fields have to be used.


You will have to select one or many Fields among the provided list. This list of Custom Fields will be built depending on their Types. It means any Custom Fields based on :

SelectCFType :

Select List (Single Choice)

Radio button

MultiSelectCFType :

Select List (Multiple Choices)

Checkboxes

GenericTextCFType :

Text Field (single line)

Text Field (read only)

and any Custom Field Type from provided by Third Part Plugin and that inherits from these Types.

Image Added




And, finally, it will remain to specify Rendering Rules ...
For this Custom Field, the Rendering Rules means to specify :

How the list of found Users will be rendered ?

Available options are :

Users

to display all found users,

Project Roles(s)

 to display only Project Role(s),

Project  Roles(s) and Users

to display both

Groups

to display Groups that are member of concerned Project Role(s).

Image Added

If the Assignee fields required to be hidden ?




I may have a sense if the currently Custom Field will be likened to an Assignee field.

Image Added

If the current Field has to be displayed if it is empty ?




When no User is found, it may have a sense to display the field is empty.




(like Unassigned for Assignee field).

Image Added



Your Custom Field is now configured ...
Image Added

At this stage, your Custom Field is configured ...

In the sample configuration on left ...

We will consider below Fields

And finally, in terms of renderding ..

Found users will be simply not displayed.




Only Project Roles

The default Assignee field will be hidden since we decide to use this field to manger Assigment.

an even if no user is found, the field will be 

displayed.
Excerpt
Users From Selected Role allows to identify dynamically the users depending on Project Role(s) identified by Project Role Picker ot any other Text field.
Content by Label
| | |
| --- | --- |
| showLabels | false |
| spaces | MINYAA |
| showSpace | false |
| sort | title |
| type | page |
| cql | label = "documentation-space-sample" and type = "page" and space = "MINYAA" |
| labels | documentation-space-sample |